I had one year clean and sober when I found myself in a critical place within my recovery. I hit a spiritual roadblock. I could not grasp the "God-Piece" and had a very difficult time making a Spiritual Connection with a God of my own understanding. The truth be told, I did not understand God at all. I was confused and angry with God. I needed real answers.
I would practice meditation, and other spiritual rituals along with calming music and even burned candles and incense while reading my daily devotionals, but the power and the connection was never there. A calmness would come over me during my spiritual practices but that feeling of peace would not last or empower me to face the daily challenges of life. Who was I really praying to? Who are you God? Where are you? Do you even hear my prayers? What kind of God would allow certain things to happen to people? Why so much suffering? Why is this such an intense battle for so many of us?
When making a gratitude list, reading daily devotionals, working a program and practicing in breathing and meditation exercises wasn't enough, I went on a search that finally delivered real answers and would change my life forever.
- Tracy Strawberry
The "Spiritual Connection" Within Your Recovery:
Do you have questions about the "God Piece" in your recovery? Are you confused, angry at God or struggling to make a Spiritual Connection with God? Do you simply desire more information that can help you gain the true understanding of God?
Have you ever thought, "at the end of my life, what is it all for? Where will I spend eternity? I'm clean and sober. I sponsor people, take individuals to meetings and go out of my way to help others. I'm a good person. Is that enough to be right with God?".
I've been clean and sober for a while now but I feel like there is something more out there for me. Can you help?
If you have ever asked any of these questions or work with people who do, The Clean, Sober & Saved curriculum series was designed for you.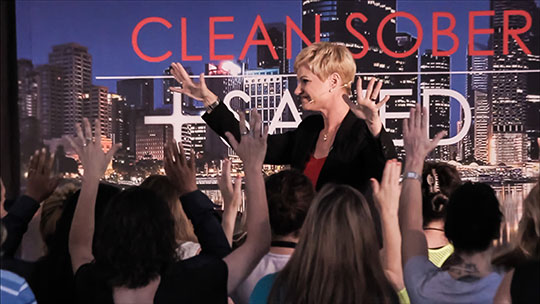 Pastors, Owners and Operators of Treatment Facilities, Residential Programs, Half-Way Houses or other Recovery Programs:
Do you encounter people who struggle with God or need help embracing their Spiritual Connection within their recovery? Do they seek answers to some of the questions or coments listed above? If so, The Clean, Sober & Saved curriculum was designed to be a helpful resource to you and to those you serve.
To Get Your Copy
Please email our team for more information and pricing on how this program can be used within your facility, residential program or congregation at
Pricing: $55.00
The Clean, Sober & Saved Kit includes:
Contains: 6 Powerful Video Sessions on USB, 1 Participant Workbook (110 pages.), containing valuable teaching notes and step-by-step worksheets helping people personally apply the teaching to their unique story and situation.
Additional Workbooks: $20.00 each.
For use in group settings, bible studies, treatment center programs or any recovery group, program or setting.